This paper forms part of a larger research agenda focusing on research regarding triage by a first aider or a first responder (i.e., non-health care professionals) in the mass gathering event context.
ABSTRACT
Background: Previously published triage tools for use at mass gathering events (MGE) lack real-world validation. Non-health care professionals, such as first aiders, first responders, and advanced responders often undertake a triage role at MGEs. This research aimed to determine consistency in the decision-making of a MGE triage tool.
Method: Volunteer members of St John Ambulance Australia were recruited. Surveys included participant demographics and real-world clinical vignettes. Participants determined a triage category based on the vignettes and supplied triage tool. Demographics were analysed using descriptive statistics and responses to vignettes were analysed using Fleiss Kappa [p-bar].
Results: There were 110 participants, the majority male (60%), having completed a Bachelor or higher degree (53.6%), and were non-health care professionals (70%). Of the vignettes, there was a slightly better than moderate agreement (items: 18, p-bar: 0.55). There was an excellent level of agreeance for the resuscitation category (items: 3, b-par 0.69), and moderate level of agreeance for the urgent (items: 10, b-par 0.52) and minor (items: 5, b-par 0.52) categories.
Conclusions: This research demonstrated similar findings to that of emergency department triage tool validation. Multi-country, multi-site, multi-type, real-world testing at MGEs is the next step to progress the development of this tool.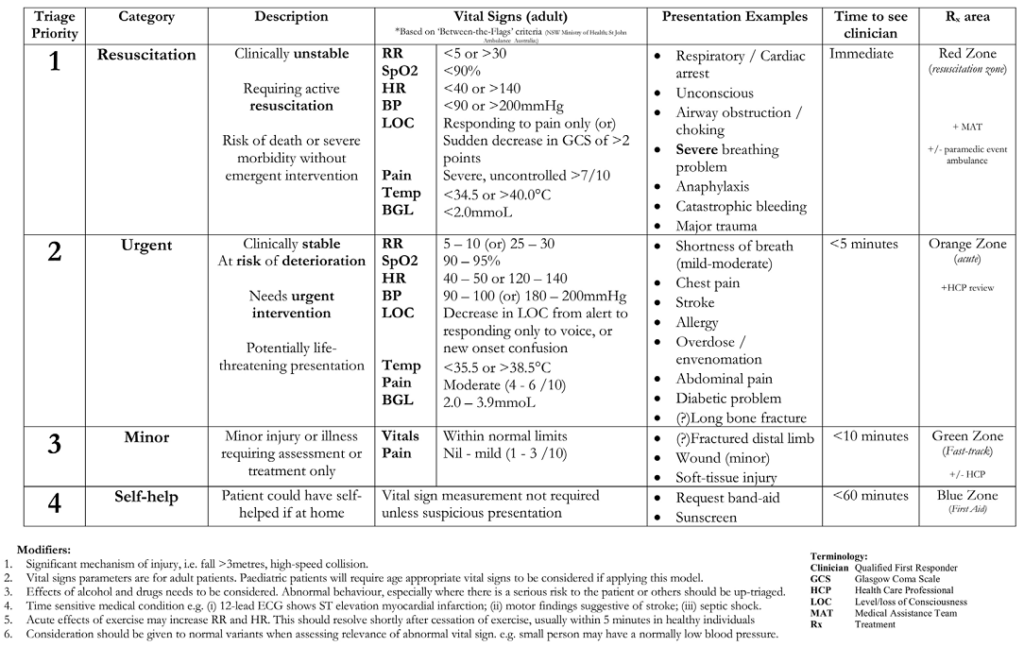 REFERENCE:
Ranse J, Cannon M, Roitman R, Morphet J. (2020) Using clinical based vignettes to further develop a mass-gathering triage tool. Australasian Journal of Emergency Care.